If you're looking for an easy and attractive way to spruce up your front yard, river rock landscaping is a great option. River rocks are versatile and can be used in a variety of ways to create a beautiful landscape. Plus, they're relatively inexpensive and easy to find. In this post, we'll show you how to use river rocks in your front yard landscaping to achieve an eye-catching look.
Why Use River Rocks in Your Landscaping?
Landscaping with river rocks is an ideal choice as it can add beauty and value to your home. River rock landscaping not only looks aesthetically pleasing but also has functional benefits.
River rocks are naturally weather-resistant and strong, making them durable for long-term use. The smooth edges of the rocks provide safety benefits by covering any sharp corners in your outdoor area, making it safer for kids and pets to run around. They are easy to lay down with minimal tools or equipment, so they are a simple and cost-efficient way to update your outdoor space without having to pay extra labor costs.
River rocks also won't require added maintenance such as mowing or weeding since they don't absorb water like other materials like grass or dirt. So if you want a beautiful outdoor space that requires minimal upkeep, choose river rocks for your landscaping needs!
Benefits of River Rock Landscaping
River rock landscaping is a beautiful and cost-effective way to enhance the look of any outdoor space. Not only does it add aesthetic value, but it also provides numerous other benefits.
Firstly, river rocks distribute water for better drainage and can be used to reduce run-off from hard surfaces like driveways and decks.
Secondly, they are a great weed deterrent – because, unlike other ground coverings that need to be replaced seasonally, they are permanent and cannot be displaced by weeds.
Thirdly, as they come in different sizes, shapes, and colors they are great for creating unique designs, borders, or pathways.
Fourthly, river rocks have less mess than gravel, bark, or mulch; making them easy to maintain clean, and tidy.
Fifthly, their natural tones look blended with nature around them to create an organic setting; perfect for those who prefer low-maintenance garden design.
Sixthly, their texture is soft enough for little bare feet so kids can play safely in any river rock landscaped area.
Lastly, since these stones are highly durable, you won't need to spend money on replacing or maintaining any new equipment regularly – which makes them an economical choice as well as an aesthetically pleasing one!
Top 5 River Rocks for Landscaping
Landscaping with river rocks is an easy and affordable way to add timeless elegance and character to any outdoor area. From adding a subtle accent of texture to creating a breathtaking feature area, river rocks can help create an outdoor oasis that will wow your guests.
When selecting river rocks for landscaping, keep in mind size, color, and shape. The top five most popular choices include:
Pea Gravel – Pea Gravel offers a muted color palette of beiges and greys.
Rainforest Marble Chips – Rainforest Marble Chips bring vibrant splashes of gray greens and blues.
Zantes River Rock – Zantes River Rock has a mix of neutral tones such as beige and brownish-red for a natural look that blends seamlessly into any landscape.
Tuscan Red Igneous Rock – Tuscan Red Igneous rock stands out with its deep reds to rusty oranges.
Indian Sunset Sandstone – Indian Sunset Sandstone has sunny hues from yellow-greys to sandy browns that look stunning in Southwestern scenery.
Whichever option you choose for your project it will surely offer beautiful results!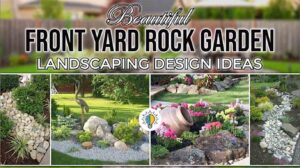 Front Yard River Rock Landscaping Ideas
One of the most beautiful ways to landscape your front yard is with river rock gardens. Imagine a pathway made up of large, flat stones curving around to form a stunning feature in any space. Adding other elements such as trees and shrubs provides natural beauty and creates an inviting landscape.
Placing river rocks in different sizes, colors, and shapes helps to bring texture and interest to the area, allowing for creative options when designing your yard. With these ideas, you can create a unique outdoor living space that will be an enjoyable focal point for years to come.
Best Way to Use River Rocks in Your Landscaping
River rocks can be a great way to add an interesting and unique element to any landscaping project. With their wide variety of shapes, sizes, and colors, river rocks can be used to create beautiful and long-lasting pathways, and water features, or simply for decorative purposes.
The most important thing when using river rocks is to choose those that are suitable for your geographical area otherwise, they could be damaged by the local's soil or climatic conditions. Once you have the right stones for your area, plan out the design before beginning work – this will ensure that you don't end up with too much stone in one place or not enough in another.
Finally, take time to figure out how the smaller stones fit into the larger landscape design, after all, it's usually the little details that help make a successful project.
FAQs
Here are some frequently asked questions about river rock landscaping:
How Much River Rock Do I Need?
The amount of river rock you need will depend on the size of the area you will be landscaping. A general rule of thumb is to use about 2-3 inches of river rock for a mulch layer, and about 4-6 inches for a stream or waterfall.
Can I Use River Rocks on a Slope?
Yes, river rocks can be used on a slope to control erosion and add visual interest. Be sure to check for signs of erosion and take steps to address it as needed.
Can I Add Plants to My River Rock Landscape?
Yes, you can add plants to a river rock landscape. Succulents and moss are popular choices, as they are low-maintenance and can thrive in well-draining soil.
How Do I Maintain My River Rock Landscape?
To maintain your river rock landscape, make sure to keep the area clean by removing any debris or leaves, and to control weeds by removing them as soon as they appear. Keep an eye out for any signs of erosion or drainage issues and take steps to address them as needed.
Can I Use River Rocks in a Water Feature?
Yes, river rocks can be used in a water feature such as a stream or waterfall. They can add visual interest and help create a natural-looking water feature.
Can I Use River Rocks in a Dry Creek Bed?
Yes, river rocks can be used to create a dry creek bed, which can add visual interest and help control erosion.
Can I Walk On My River Rock Landscape?
It depends on the type of river rock you use and the way you lay it. If you use larger, flatter rocks and lay them in a stable and even manner, it can be possible to walk on the river rocks. However, if you use small, round rocks, it's not recommended to walk on them.
Do River Rocks Attract Snakes?
Avoid using mulch and large rocks in your landscape as these attract snakes and their prey and can create breeding and wintering habitats. Instead, use smaller, more snug rocks like pebbles or river rocks. Also, avoid landscaping with water gardens and koi ponds.
Conclusion
To sum up, using river rocks for landscaping is a great way to spruce up your front or backyard. River rocks come in many varieties and sizes, making it easier for you to find the look you desire. With seven benefits such as drainage solutions, weed control, and erosion protection, utilizing river rocks in your garden is beneficial to both your decor and the natural environment.
Moreover, river rock landscaping ideas can help you choose what style best fits the layout of your home. The top five stones are the best choice when refurbishing a landscape with river rocks and there are many ways to use them effectively. All things considered, upgrading your landscaping with river rocks is an easy endeavor that will benefit both your garden's aesthetics and sustainability.
References
Here are some references to support the answer: