If you live in a desert climate, you know that landscaping can be a challenge. Finding plants that will survive the heat and lack of water can be difficult, and it can be tempting to just give up and let your yard go wild. But with a little creativity, it is possible to create a desert landscape that is both beautiful and easy to care for. Here are ten inexpensive desert landscaping ideas to get you started.
Use rocks to create a natural border around your garden.
Create a dry creek bed with stones and sand.
Add a small waterfall to your yard.
Build a retaining wall using rocks and dirt.
Make a stone path leading to your front door.
Grow succulents in pots.
Use concrete blocks to make stepping stones.
Use old tires to build a fire pit.
Use bricks to make a planter box.
Use wood pallets to make a bench.
Looking for some cheap and cheerful ways to spruce up your desert landscaping? Check out our top tips and tricks – you won't be disappointed!
Inexpensive Ways to Add Desert Landscaping to Your Home
Add an outdoor pergola to your backyard.
Install desert-friendly plants and cacti in planters around the yard.
Grow succulents and ground cover in raised beds.
Create a rock garden with drought-resistant flowers, shrubs, and trees.
Incorporate rock pathways throughout your landscaping for easy access.
Construct a sand pit for kids to play in.
Lay down artificial turf to create a lawn without the need for much water.
Create a desert patio with potted plants and patio furniture.
Add colorful lights and strings of fairy lights to bring a magical touch to your outdoor space.
Install an outdoor fountain as a focal point.
Build a fire pit to gather with friends and family around.
Make use of old tires for interesting DIY planters.
Add an outdoor kitchen for more entertainment options. 
With just a little effort and imagination, you can transform your desert landscape into something special – without breaking the bank! Try these tips and tricks today to add desert landscaping to your home.
How to Choose the Right Plants for Desert Landscaping
Choosing the right plants is key if you're looking for a low-maintenance way to add desert landscaping to your home. Look for cacti and succulents that are native to the area, and be sure to select varieties that can tolerate both extreme heat and drought conditions. Additionally, choose plants with various heights, foliage, and bloom colors to create an interesting contrast in your desert landscape. 
When planting, keep the soil around your plants free of weeds and debris – this will help them retain moisture and encourage healthy growth. Lastly, consider adding a few strategically placed rocks or mulch for an added touch of beauty. By taking these steps, you can ensure your desert landscaping is beautiful and easy to maintain. 
Good luck with your desert landscaping project! With these tips and tricks, you'll be enjoying a peaceful outdoor oasis in no time. Happy planting!
Tips for Creating a Water-Wise Desert Landscape
Creating a water-wise desert landscape is possible, even in the driest climates. The key is to focus on drought-resistant plants that can withstand hot and dry conditions without needing much water. Additionally, there are several supplemental strategies you can use to help your plants conserve moisture, such as: 
Adding mulch or rocks to the soil around your plants to help retain moisture.
Planting in raised beds that can be covered with plastic or shade cloths on hot days.
Installing a drip irrigation system or soaker hose for deeper and slower absorption of water.
Designing pathways or patios with permeable materials such as gravel, pavers, or stone.
Incorporating water-wise features such as rain barrels, ponds, and water-harvesting systems into your landscape. 
By taking the time to think about your desert landscaping needs, you can create a sustainable outdoor space that will look great for years to come!
Design Ideas for Desert Landscaping
When it comes to desert landscaping, you have plenty of options for adding beauty and interest to your outdoor space. Consider incorporating the following design ideas into your landscape: 
Install a rock garden with drought-tolerant plants, trees, and shrubs. 
Add vibrant potted desert plants along pathways and patios.

 

Incorporate your desert landscape with colorful lights, strings of fairy lights, and outdoor fountains. 
Build a fire pit or outdoor kitchen for more entertainment options. 
Use old tires for unique DIY planters. 
With these design ideas, you can transform your desert landscape into a beautiful outdoor oasis that's both practical and inviting.
How to Create a Desert Oasis
Creating a desert oasis doesn't have to be difficult – with the right knowledge and preparation, you can design a beautiful space that is both practical and inviting. Follow these steps to get started: 
Start by researching your local climate and choosing plants that are native or adapted to the area. 
Plan out your landscape on paper or with gardening software. 
Consider incorporating water-wise features into your design such as rain barrels, ponds, soaker hoses, and drip irrigation systems. 
When planting, make sure to give your plants plenty of room to grow and spread. 
Use mulch or rocks around your plants to help retain moisture in the soil.  
Prune, fertilize, and water regularly to ensure healthy growth. 
With these tips in mind, you can transform your outdoor space into the desert oasis of your dreams!
How to Care for Desert Plants
Caring for desert plants may require some extra effort and attention, however, the reward is a beautiful landscape that adds both color and texture to your outdoor space. To keep your plants healthy and thriving in the desert terrain: 
Ensure they get plenty of sunlight throughout the day. 
Water when necessary – check the soil for dryness before adding water. 
Protect plants from the hot midday sun and strong winds. 
Fertilize and prune regularly to encourage growth. 
Use mulch or rocks to help the soil retain moisture. 
Plant in elevated beds with plastic covers to protect from extreme heat. 
By following these tips and caring for your desert plants, you can enjoy a lush and beautiful landscape all year round! Good luck! 
Common Mistakes in Desert Landscaping
When it comes to desert landscaping, it's important to know what not to do to ensure the health and longevity of your plants. Common mistakes include: 
Planting without doing research first – be sure to choose plants that are native or adapted to the local climate. 
Watering too frequently – stick to a regular schedule and make sure the soil is dry before adding water. 
Overplanting – it's better to have fewer, more spread-out plants with plenty of room for growth. 
Failing to prune – trimming helps promote healthy growth and protects from disease and pests. 
Not mulching – adding a layer of organic material around your plants helps retain moisture in the soil. 
The desert landscape is a unique and rewarding challenge that requires plenty of research, effort, and dedication. By avoiding these mistakes, you can create a beautiful desert oasis that will last for years to come.
The Best Time of Year to Plant Desert Landscaping
When it comes to desert landscaping, the best time of year to plant is during the fall and winter months. This is when temperatures are cooler, rainfall is more frequent, and soil moisture levels are higher – all essential factors for successful planting. As such, it's best to wait until late October or early November before planting your desert landscape. 
Also, avoid planting during the hot summer months when temperatures are at their highest and soil moisture is at its lowest. This can cause plants to become stressed and more susceptible to disease and pests. So, if you're planning on landscaping your desert home, make sure to start in the fall for the best results.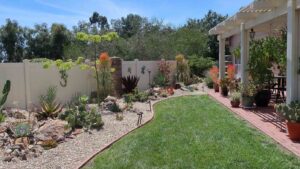 How to Add Color to Your Desert Landscape
Adding color to your desert landscape is one of the best ways to make it stand out and create a vibrant space. To do this, you'll need to choose plants that have interesting foliage or flowers in shades of yellow, orange, red, purple, and blue. 
When selecting plants for color, consider their growth habits and water requirements to make sure they are well suited to the local climate. It's also a good idea to group plants with similar needs together so they can thrive in harmony. 
Finally, don't forget about accent pieces such as rocks, statuaries, and pottery that can add texture and interest to your landscape.
Desert Landscaping on a Budget
Desert landscaping doesn't have to break the bank! There are several ways to design a beautiful oasis without spending a fortune. Here are some tips for adding wow-factor to a budget: 
Choose drought-tolerant plants – native and adapted varieties tend to be more affordable than exotic species. 
Use what you have – use existing rocks, trees, and shrubs as part of your design. 
Reuse materials – consider upcycling items such as old tires or buckets to add unique accent pieces. 
Shop around – compare prices at different nurseries to get the best deals on plants and accessories. 
Get creative – don't be afraid to get creative and think outside the box when it comes to design.
By following these tips, you can create a stunning desert oasis without breaking the bank. Have fun!
FAQs
What Is the Easiest Plant to Grow in the Desert?
Succulents and Cacti. Succulents are trending, and along with cacti, gardeners are using these easy-to-grow desert plants in their landscapes and homes. These agaves come in many colors and range from small to large.
What Is the Rarest Flower in the Desert?
Holmgren's milkvetch, a unique and rare desert flower found nowhere else in the world, is one of the latest species to suffer from the region's unprecedented habitat loss.
What Is a Desert Landscape Called?
A xeriscaped landscape requires less maintenance than areas designed with intensive grass and plants—drought-tolerant plants. The cactus is the most common example of a suitable xeriscape plant, which has hundreds of species native to the Americas.
Conclusion
Desert landscaping is great for people who don't want to spend a lot of money. Succulents and Cacti are popular choices for desert landscaping. You can use native plants to make a natural look in your yard.
References