Are you thinking about adding a pool to your backyard? A backyard swimming pool is a great addition to any home. But what is a good size pool for a backyard? There are a few things to consider when choosing the size of your pool, including the size of your yard and how you plan to use the pool. Keep reading to learn more about choosing the right size pool for your backyard.
What You Want Out of a Pool – Relaxation, Entertainment, or Exercise
Designing your custom pool plan can be a fun and rewarding task. Through careful thought and consideration, you can custom-tailor your backyard pool design to align perfectly with your preferences. On this journey, determining the size of your pool is essential.
Depending on whether you are seeking relaxation or entertainment, or if you are looking for exercise capabilities such as a swim spa or lap pool, it's important to consider the size that best fits your needs.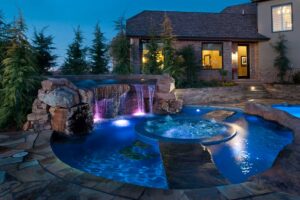 Consider the Size of Your Backyard Pool
When deciding on pool size for your backyard, it's important to think through what activities you would like to do in the pool and how much room you have to work with.
Consider the size of your backyard and how much space you're willing to give up for the pool. A pool that is too small can fail to accommodate activities beyond basic swimming, while a pool that is too large might not leave enough cleared space for other amenities or recreational opportunities.
Ultimately, when devising pool size for your backyard pool installation, take into account yard size, usage preferences, desired pool depth levels, and safety requirements.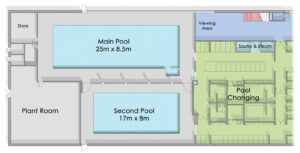 Determine the Shape of the Pool
When trying to determine the pool shape that would best fit your backyard and needs, there are several things to consider.
If you are looking for a pool design with curves and creativity, an oval pool is an obvious choice.
But if you're looking for something more dramatic and different, try a freeform pool, with its winding shapes and contours, this kind of pool can make a statement in your backyard.

Rectangular pools provide efficient use of space but don't offer as much design flexibility.
Ultimately, the pool shape you choose should depend on your needs and how those needs best fit with the layout of your backyard.
Choose Between Above-Ground or Inground Pools
Choosing between above-ground and inground pools can be a difficult decision. One of the major considerations when selecting one or the other is budget.
Above-ground pools have the added advantage of being smaller in size and much less expensive to purchase than an inground pool.
On the other hand, inground pools are larger and more expensive due to a variety of factors such as excavation and soil preparation costs, installation of pump and filter systems, and building decks or installing patios to complement them.
Additionally, though above-ground models are easy to install, inground pool installation is more complex.
In evaluating above-ground versus inground pool sizes and installation preference, balance cost with space allowed before making your decision.
Custom Pools Tailored to Your Specific Desires
If you are looking to add something truly special to your home, custom-designed pools may be a perfect choice. With custom pool design, every aspect of your entire pool set-up can be tailored to fit your lifestyle and desires.
Every custom pool can reflect a unique custom style that could not only add beauty to your backyard but also provide a healthy environment for an entire family. These custom-built pools can accommodate any budget and create stunning features that make them stand out from other pools in the area.
In addition, custom-designed pools provide countless opportunities for relaxation with various shapes, sizes, and landscaping options available. Investing in a custom pool will ensure that you get exactly what you want in terms of quality materials, designs, and styles.
The Pros and Cons of Different Size Backyard Pools
When considering the size of a backyard pool, it is important to carefully weigh the pros and cons.
Smaller pools have fewer maintenance costs because they require smaller pumps, filters, and other equipment. They also take up less space in the yard and can be installed more quickly. However, they are not suitable for larger families who need more swimming room or for activities like diving or water sports.
Larger pools provide more space for swimmers and divers but cost significantly more money to install and maintain. They also take up much more space in the yard, potentially leaving little room for other amenities such as patios or decks. The best option will depend on your particular needs and budget constraints.
Whatever size backyard pool you decide to go with, make sure that you carefully consider all of the factors involved and find a pool design that meets your needs and fits within your space and budget. With careful research and planning, you can have the perfect pool in no time!
FAQs
Here are some frequently asked questions about backyard pools:
How Much Does It Cost to Install a Backyard Pool?
The cost to install a backyard pool can vary greatly depending on the size, design, and location of the pool, as well as the type of pool (inground or above ground). On average, the cost of an inground pool can range from $20,000 to $100,000 or more. Above-ground pools are generally less expensive, costing between $1,000 to $25,000.
What Is a Good Size Pool for a Small Backyard?
While pool sizes and dimensions vary, generally anything that's about 10 by 10 feet or less is considered a small pond. In terms of depth, three feet is the standard for wading and swimming, and four to five feet and above is the best depth for lap pools.
How Much Does It Cost to Maintain a Backyard Pool?
The cost of maintaining a backyard pool can vary depending on the size and type of pool, as well as the location and climate. On average, pool owners can expect to spend between $1,200 to $3,500 per year on maintenance, including chemicals, equipment, and repairs.
How Long Does It Take To Install a Backyard Pool?
The time it takes to install a backyard pool can vary depending on the size and complexity of the project, as well as the location and climate. On average, it can take 4 to 12 weeks to install an inground pool and less time for an above-ground pool.
Conclusion
In conclusion, when it comes to picking the perfect pool for your backyard, there are a couple of things to consider. It is important to think about what you want to get out of your pool – whether it's purely for relaxation, entertainment with friends and family, or an exercise outlet. After deciding what you want out of a pool it is then time to look at size and shape based on the space you have in your backyard.
Additionally, determining whether you would like an above-ground or inground pool should be considered in terms of budget and ease of installation. Lastly, don't forget about custom pools that can be tailored exactly to your desires.
Ultimately, there is no single 'right answer' when it comes to choosing a pool as long as you have thought through all the considerations – so make sure you take into account all the aforementioned points before making a decision!
References
Here are some references to support the answer: